Today I will take the train to Berlin main station. I will buy the Sunday Times, and then I will sit down in the coffee shop segment of the local McDonalds, read my newspaper and draw for a little while. I will do so, because it is what I did almost one year ago. AA Gill had passed away the day before, and the Sunday Times published a retrospective. I subscribed to the digital version, so it wasn't necessary to buy the actual paper, but I wanted to have it, so I went.
It was still relatively early when I got there and the newsagent wasn't stocked yet, so I sat down for my coffee, drew for a while, and then returned. I got my edition, had another coffee, and then went back home. And after I had done all that, I almost felt okay.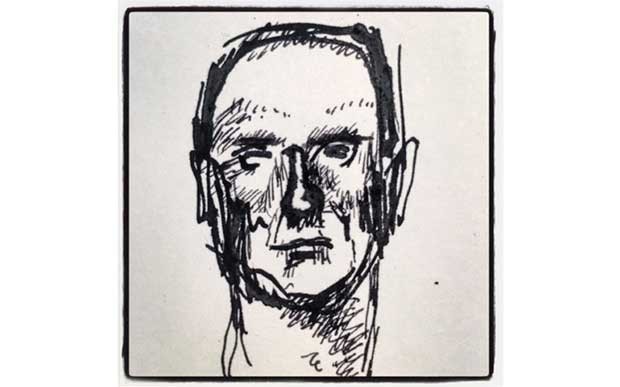 Self Portrait by AA Gill
Published by Waterstones
AA Gill has published many collections of his columns and essays. The first one I bought, after having read a few of his pieces that were available online, was 'AA Gill is away'. I liked travel writing anyway, and this one contains an essay on Germany, 'Hunforgiven'. He journeys through East Germany, and comments on the German way to deal with its history.
I have lived in East Germany for almost all of my life, and have read many things about it, but never has anything felt more real, more true to me. I cried a lot of times while reading it - and while translating it to my mother, who could sense my emotional response even through this second-hand experience. It is very rare for someone to express something that you feel so profoundly, even more so when it is something you have been trying to comprehend yourself for a long time.
I can count on one hand the number of people that have caused this reaction in me, and with AA Gill, it has not just happened once. For the past year, I have been slowly reading through his 'back catalogue', and I have understood more about myself than I have in the past thirty year combined.
It is amazing to me how he could have been so very different from me, and yet express what I feel as well as he did. Sometimes I look to the future now, and it scares me, thinking that I may not be able to completely comprehend how I feel about what is coming, because he is not there anymore to explain it for me.
AA Gill, photographed for his first column for the Gourmet Traveller
Published by Gourmet Traveller
'When I started writing, I realized that all the things I had been trying to in pictures, really I wanted to do in words. And it was just like coming home.'
Out of all the things AA Gill has said or written, this one has had the deepest impact on me. I have even written about it,
on this blog
. I myself have had exactly the reverse experience, but until I heard that, I had not admitted it to myself, or even understood that this was what my heart was telling me. In this moment, I knew understood what I had been trying to do, and I felt like I was being given a guideline for what to do with the rest of my life. I am sometimes slightly envious of people who find their calling early on, but no matter when you find it, the people who help you do so will always remain incredibly important to you.
While I was on the train to get my paper last year, a friend had asked how I was doing. Whether I was okay. 'Of course, why not?', I wanted to reply. After all, people die, and why would I be more than just a little bit sad if somebody I haven't even met had gone? Then I started crying on the train before I could answer the question, and I realized that maybe this time it was not just 'somebody' to me.
'AA Gill is away' is the note that was printed in the paper when he hadn't written a column that week. It seems wonderful to me. Columns are rarely the most important parts of a newspaper, but to know that there are people who will miss them and mark their absence resonates with me. It pains me that I only realized his importance to me after he was gone, but I am even more grateful that he was ever there at all.
In his autobiography, 'Pour Me' (Yes, this is a pun, and yes, it took me a year to see it, and yes, I am still annoyed by this), there is a chapter on his relationship with art. He started out as an art student, and says the most important thing he learned in school was that he was not an artist.
This chapter took me a few months to read. It is filled with art and love and thoughts, and all of it hit too close to home for me to be able to continue on to the next chapter easily. Near the end, he quotes Max Liebermann, a German artist who worked where I live now, and whose art and way of seeing things feels very real to me.
'Knowing what you are not is of far more lasting value than wondering what you are. What you are is what's left when you've cleared everything else away.
Max Liebermann said that the art of drawing was the art of omission; it is a pensée that I use more often than any other borrowed quote. It is a powerful truth of life. What you leave out gives the power and the beauty to what is left in'
It's a thought to live by, a reminder to be careful in the choices you make, but I think it also fits beautifully with the title. AA Gill may be away now, and I can feel the empty space he left behind. But I can also see how my world has been enriched by having his words in it; he has helped me shape my own life, and in doing so has given me far more than I could have ever asked of anyone.
I will take the train today and sit down with the newspaper and drink my coffee, and I will smile, knowing just how much it means. And I will draw, because it is who I am, and AA Gill has helped me understand it.